We will be updating this page & all our social media accounts with relevant information for our tenants about our response to the current situation & useful links to other websites.
We appreciate that this is a difficult time for everyone, and want to reassure you that we are doing all we can to help and support you. Please stay safe and well.
Updated 12 August 2020 – Repairs and maintenance recovery plan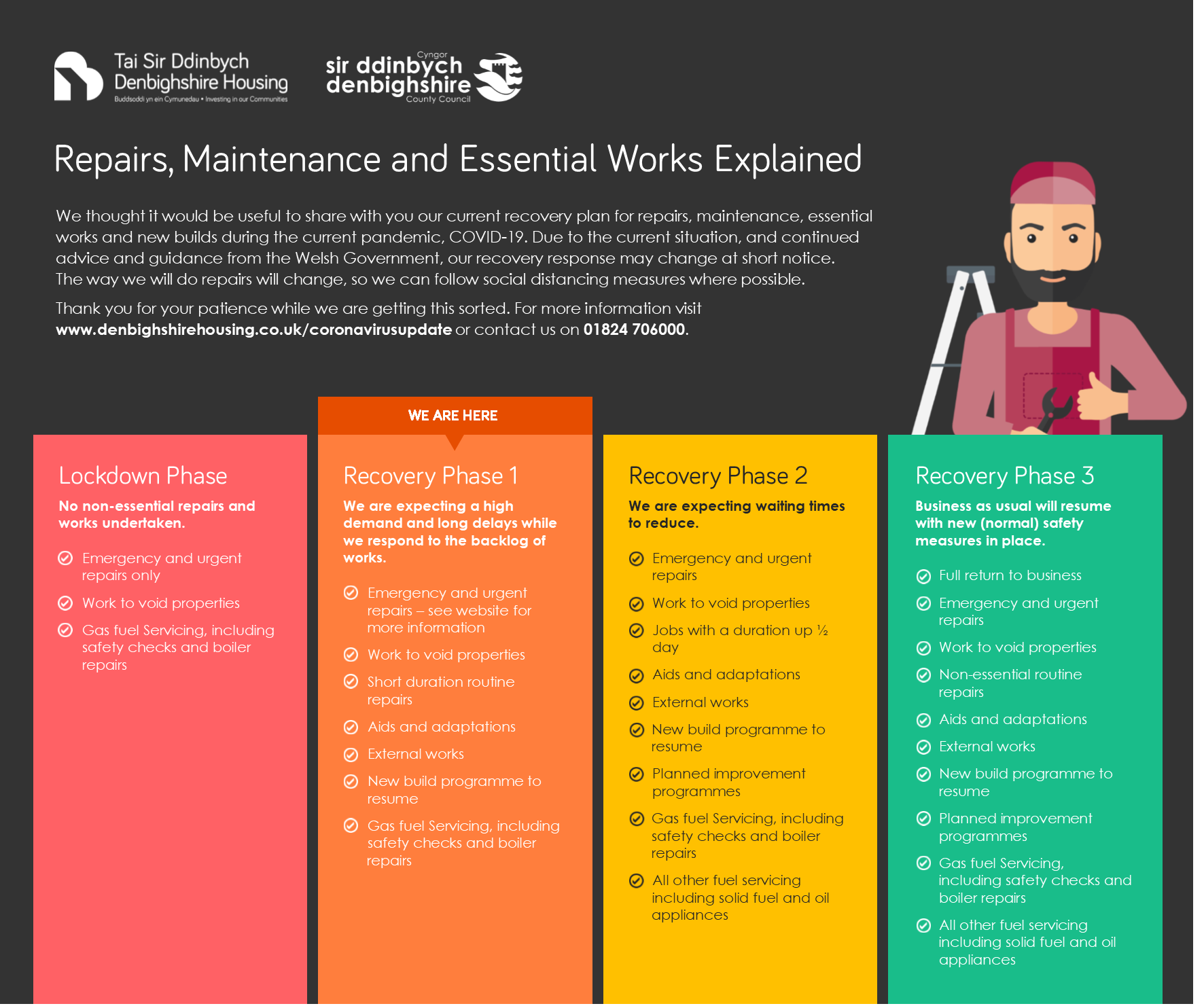 UPDATE 17th JULY 2020 – Play Areas Reopening
Great news! We are reopening our play areas from Monday 20th July, just in time for the summer holidays! The safety of the public using our play areas is so important to us. Some things to remember, when using our play areas:
If you or anyone in your household is displaying symptoms, or are unwell, do not use the play park
Observe social distancing at all times – 2 metres apart
Be aware of how many people are on the play area. If you are not able to follow social distancing measures, please do not enter the play area
Remind children to play responsibly and be aware of others around them
Stay no longer than 1 hour to allow others to use the equipment
Children must be accompanied by a responsible adult at all times
All users of the play area must behave in a sensible and fair way. We will not tolerate any form of anti-social behaviour
Where possible, wipe the equipment using anti-bacterial wipes before and after use
Wash your hands after using equipment, when you leave the play area and get home
Food and drink are not permitted in our play areas
All litter should be disposed of in the litter bins provided, or taken home where a bin isn't available
Do not meet with more than one household outside in a play area
All play areas are used at an individual's own risk. Denbighshire Housing do not accept responsibility for any injuries, transmission of germs and so on from the use of our play areas and equipment.
For more information about Council run play areas, click here.
For more information and guidance from the Welsh Government, click here.
TENANT UPDATE 22 May 2020 – New arrangements for Coronavirus (COVID-19)
Due to the changing situation with coronavirus (COVID-19), we wanted to reassure you that we are doing all we can to help and support you. These include:
Signing up to the 4 principles agreed with Welsh Government and social landlords in Wales:
Keep you safe and secure in your home
Help you get the financial support you need
Support you and find solutions if you have difficulty paying your rent
Do everything we can to support your wellbeing.
All visits to your property by Denbighshire Housing staff and contractors:
We are following the Welsh Government guidance on social distancing measures and reducing social interaction as much as possible to help support the reduction in the transmission of coronavirus (COVID-19). These measures include:
Practicing the 2 metre social distancing guidance
Where possible, appointments will be made in advance of visiting you or your property.
We will call you in advance of our visit and you'll be asked to confirm that you're not showing any symptoms or self-isolating 24 hours before your appointment;
When answering your door, please check who it is, open the door, move back into your property. The officer will remain 2 metres away from your door.
Repairs & Maintenance staff and contractors:
In addition to the staff and contractors new measures, we are also introducing the following measure for any repairs and maintenance jobs undertaken at your home:
Where possible, appointments will be made in advance of visiting you or your home and we will call you 20 minutes before we arrive.
When you answer your door to let a member of staff/contractor in to undertake works, please make sure you move 2 metres away, or enter another room so they can safely enter your property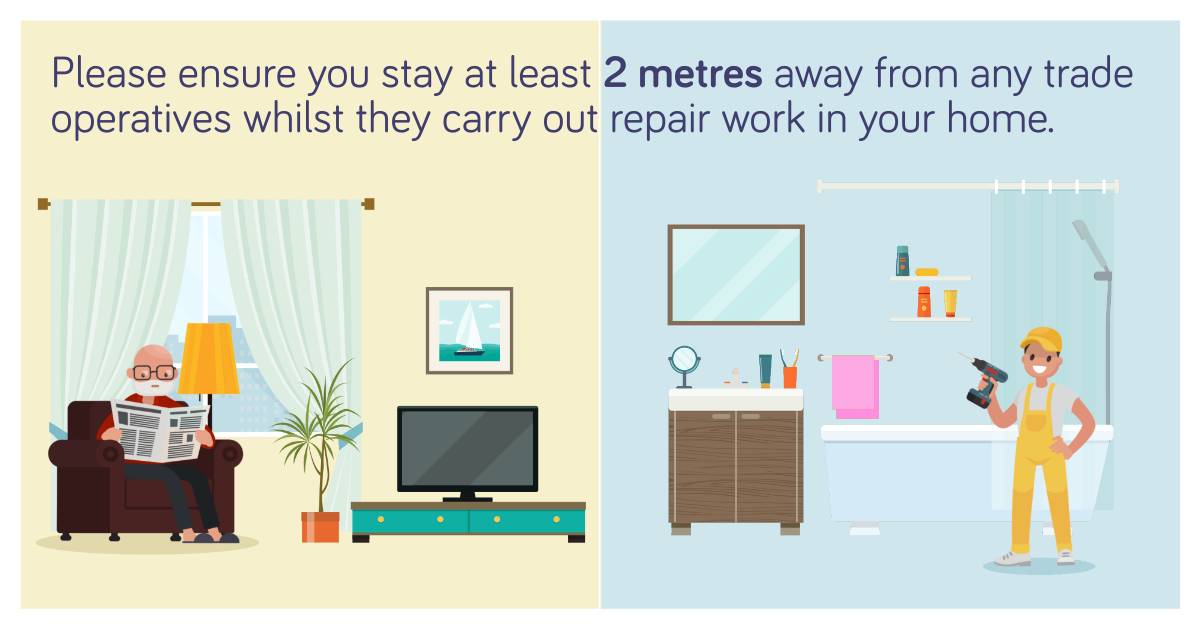 For example, if you are having repair works in your bathroom, please remain downstairs. You would not be able to use your bathroom while the repairs are taking place.
Please make sure you move to a different room to where the work needs to be done, and let the member of staff start the job
We will use signs to create a safe working environment and maintain a safe distance. Please respect these.
We will use anti-bacterial wipes on all areas that have been touched when we finish and we will let you know when we leave
If at any point we think either us or anyone in the house is being put at risk, we will leave immediately
If you fail to follow the social distancing measures, your repair will be stopped immediately and we will leave your property. If this happens at any future visits then the repair/visit will be cancelled and you will receive no further visits until further notice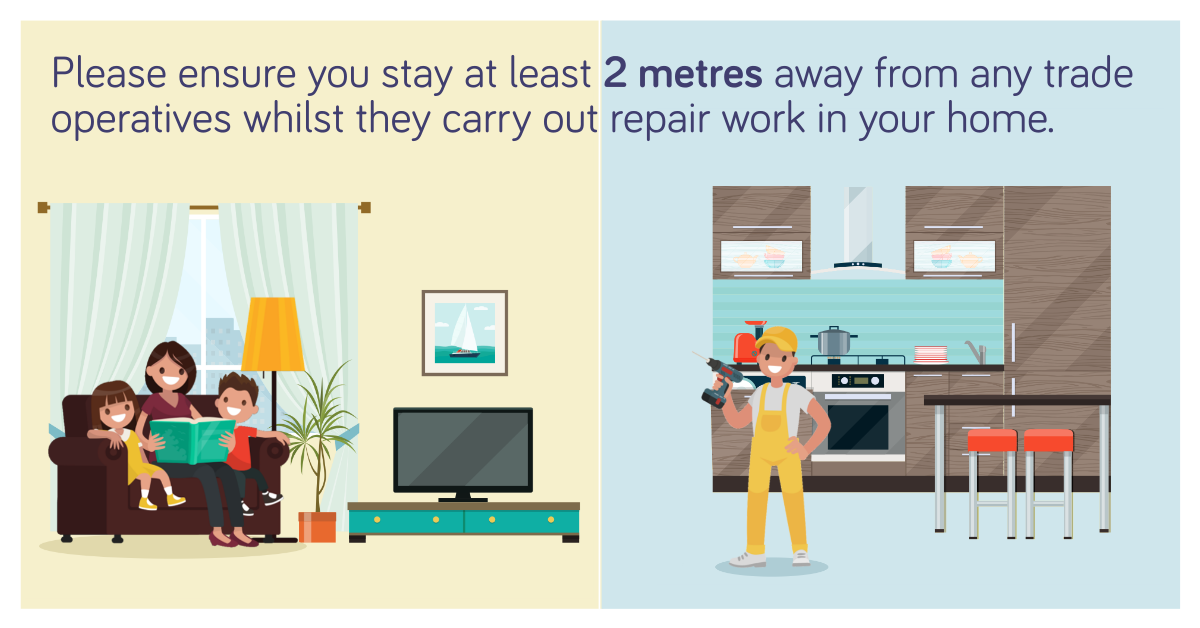 For example, when you are having repair works in your kitchen, please stay in your lounge or an alternative room.
Other building works:
We are also starting works again on our new builds, external improvement projects and empty properties. These will all have a specific risk assessment and will be in line with the Welsh Government guidance.
Social distancing advice:
Practice the 2 metre social distancing and other measures introduced by the Welsh Government.
Please tell us if you feel unwell, are self-isolating, and or have any symptoms of the coronavirus, and are expecting a visit to your home, please let us know by phoning 01824 706000.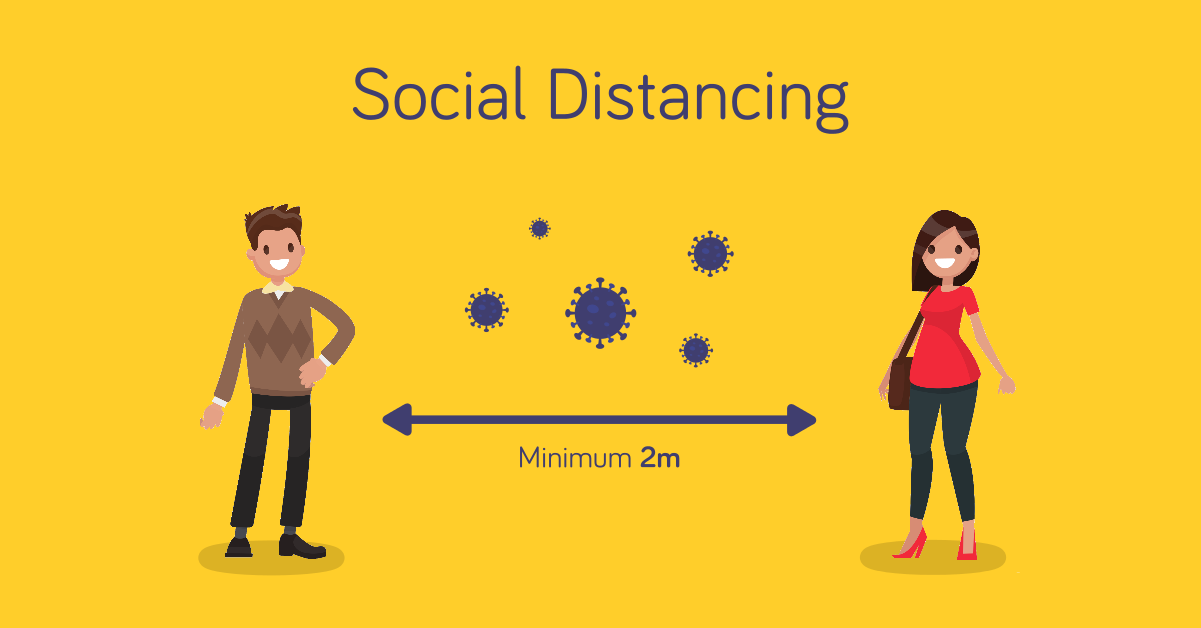 Our Community Centres:
We would like to remind our tenants, that in accordance with the Welsh Government's current social distancing measures, we are continuing to keep our community centres closed for everyone's safety.
Here to help:
We are always here to help with any issues you might be having with your rent arrears, benefits and general money advice, anti-social behaviour or any other problems. So why not give us a call today on 01824 706000.
The Welsh Government have published a new guide outlining the types of financial support that tenants may be able to access. https://gov.wales/coronavirus-covid-19-support-for-tenants-in-wales
Community events & rebuilding our communities:
We have had to cancel all our up and coming community events. We are working on a programme to try to support communities digitally as well as other alternative formats. Keep an eye on our social media accounts for any new events coming soon.
Household waste recycling centres & green waste collections:
The Council has announced that Lon Parcwr (Ruthin), Colomendy Industrial Estate (Denbigh) and Marsh Road (Rhyl) household waste recycling centres will re-open the week commencing the 25 May by appointment only. The 'pop up' centre services in Corwen and Llangollen are still suspended, as they are not able to ensure that social distancing would be maintained at this stage. Please keep an eye on the Council's website for further information.
The garden waste collections service will resume from the 18 May for subscribers.
Denbighshire Housing Tenant Awards 2020:
We have decided to postpone our Denbighshire Housing Tenant Awards until later in the year, as a precaution. Nominations are still open for now and can be submitted at www.denbighshirehousing.co.uk/awards . Keep an eye on our social media accounts for a new date.
Please keep an eye on our social media accounts for up to date information and any changes to this advice. If you have any questions about these new measures, contact us on 01824 706000 or housing@denbighshire.gov.uk
Geoff Davies
Lead Officer – Community Housing
For more information about:
Denbighshire County Council
Community Resources available
Public Health Wales
​Department of Work & Pensions – Universal Credit & Benefits advice
Welsh Government
The Children's Commissioners Website - has some great tips and advice for the whole family.
Welsh Government Advice:
The Welsh Government have published a new guide outlining the types of financial support that tenants may be able to access.
https://gov.wales/coronavirus-covid-19-support-for-tenants-in-wales
Click here for a copy of a letter the Welsh Government have sent to all social housing tenants in Wales.